Gabions
There are three types of gabion: galvanized iron wire gabions in double-twisted hexagonal mesh; gabions of galvanized iron wire coated with polyvinyl chloride (PVC),   in double-twisted hexagonal mesh; and finally, architectural gabion walls of iron wire plated in galfan (a zinc-aluminum alloy), electro-welded at right angles.
Function
Gabions are a permanent erosion control environmental mitigation measure. They consist of metal baskets filled with stones, tied together to create a monolithic structure. They are used to create retaining walls and to stabilize slopes, stream banks and drainage canals.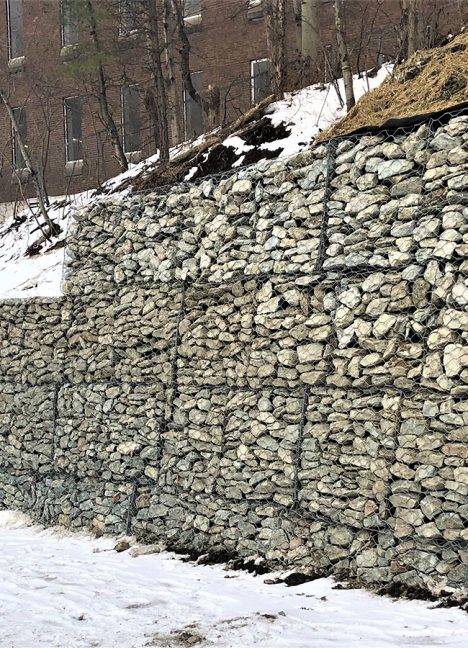 Installation
The use of gabions often requires signed, sealed engineering plans: please check regulations in effect at your project location.
It is important to follow the manufacturer's recommendations and comply with the requirements of plans and specifications. Gabion stability depends on a number of technical factors that must be taken into account during installation:
The rocks used to fill the gabions must be between 100 mm and 200 mm in size.
Double-screening the rocks is strongly recommended; it is important to avoid creating crevices. When your cage is full, there should be no empty space in it. For esthetic concerns, stones on visible facades must be well placed.
Gabions should be filled carefully, by hand. Each cage must be reinforced with bracewire as it is filled.
When installing a retaining wall, do not backfill over the top of the wall, and ensure that the design provides for adequate drainage.
Gabions are installed with bracewire and Spenax-type C-rings.