Articulated concrete mats
Articulated concrete mats are a permanent erosion control system made up of mats of interconnected concrete blocks.
They are flexible, allowing them to hug the contours of the ground.
This solution is easy to deploy and can be used to cover large surfaces fast. In certain cases, it is an alternative to riprap, gabions or any other permanent erosion control system. Unlike riprap, mats of concrete blocks can be planted, making them invisible.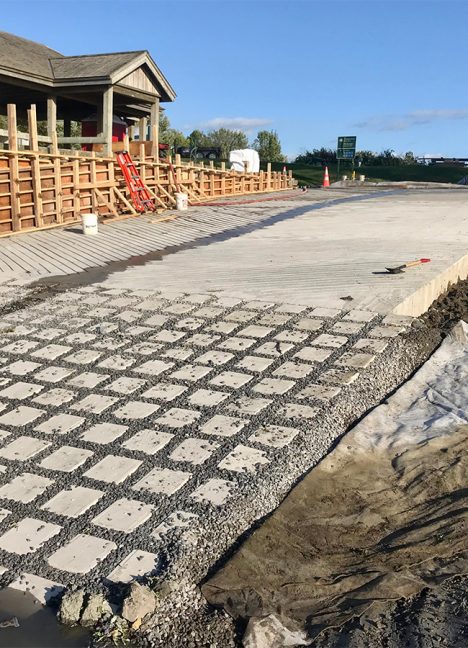 Function
Articulated concrete mats are particularly effective against washout. They are used as revetment in canals and at the base of bridge piers, for shoreline protection, boat launch installation, conduit protection and road and trail development. This erosion control system can also be used to dissipate hydraulic energy when water is discharged from a structure. These mats can be an alternative to riprap, gabions or any other permanent stabilization system.
Various models of articulated concrete mats are available, each with its own features. Terraquavie distributes articulated concrete block mats from various manufacturers in order to offer you the best solution, applied to your project. Depending on the manufacturer, the blocks are linked by stainless steel cables or geogrids. When needed, a separation geotextile can be preinstalled at the plant.
Block spacing and thickness, the application and the installation site all play a role in selecting the right product. We will be there to guide you through your project, from design to implementation. Contact our technical support team to learn more.