Dewatering bags
Dewatering bags are made from geotextiles, a geosynthetic product that we distribute. Nonwoven geotextiles are the type most often used, as they have a high flow rate and water filtration is one of their main functions. The bags are assembled with double lockstitch seams around the entire edge. Seams are double lapped through four layers of material.
PRODUCT MANUFACTURED BY TERRAQUAVIE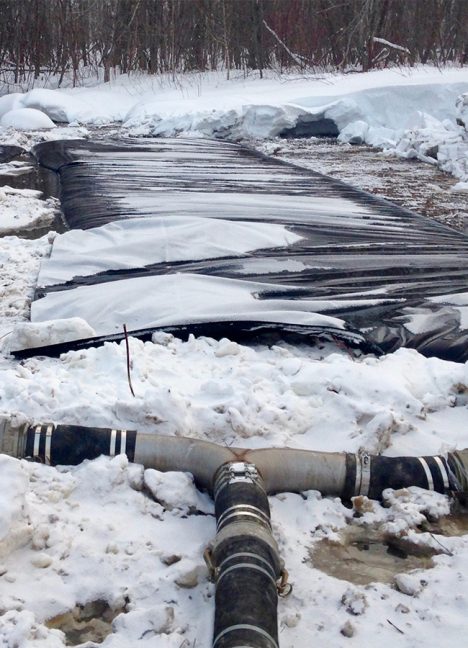 Fonction
Dewatering bags are a necessary mitigation measure for sediment management under an environmental protection action plan. They are used to control sediments when turbid water must be pumped. The dewatering bag is installed on the outlet of the pumping hose, where it acts as a filter, retaining sediment while allowing water to escape. These bags promote sedimentation by giving suspended particles sufficient residence time to settle to the bottom of the bag.
Dewatering bags are also used to partially dissipate energy and avoid creating a source of erosion.
There are physical constraints on the flow rate this type of dewatering unit can handle. Volume of water to be pumped, work duration, space available, accessibility by machinery for disposal of the full bag, sediment type and project location all affect the choice of bag dimensions and type of filtering geotextile.
To achieve your objectives, the flow rate and pore size of the geotextile must be considered, because, generally, the higher the flow rate, the larger the pore openings, allowing coarser sediments to pass through. Conversely, the thicker the geotextile, the finer the particles it can capture, but its flow rate will be lower.
Recommendations
For the safety of workers and the site, dewatering bags should be used on the flattest land possible, because bags swell as they fill with water and may roll if installed on a slope.
When a bag is filled to capacity, it is important to stop pumping and wait until the water flows out on its own, without applying pressure. In the event that continuous pumping is required, several bags can also be used in series.
Plan for heavy machinery access to the dewatering bag following use. To increase the bag's effectiveness, install it on a porous medium such as a bed of aggregate, to allow the water to flow out of the bottom and not only from the sides and top. The pump outlet hose must be securely fastened to the bag.
Custom design
Various components can be added to dewatering  bags upon request, such as polyvinyl chloride (PVC) flanges, tank adapters, reinforcing straps and other components needed to achieve specific objectives. The firm has the manufacturing capacity to produce numerous custom models. Use our contact form or simply call us to tell us your project parameters.