Ground protection mats
Plastic ground protection mats optimize on-site operations by safeguarding surfaces against damage caused by circulating machinery. They avoid the costs associated with repairing these surfaces and prevent machinery from sinking where the soil is soft.
Ground protection mats can be used to stabilize roadways and temporary access routes.
Manufactured from super-tough recycled plastic, these ground protection mats are a long-lasting replacement for plywood sheets and will soon pay for themselves.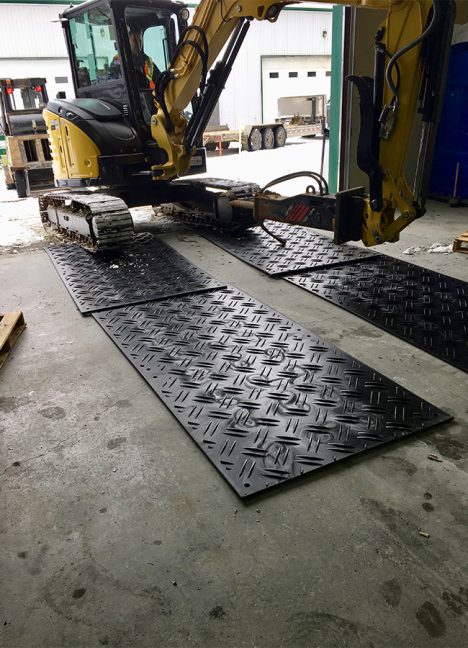 Each mat measures 1.2 m x 2.4 m (4′ x 8′) and weighs 41 kg (90 lbs), so two people can handle them.
The mats have cut-out handles for ease of installation and handling. They can be cut as needed using a circular saw.
The recycled plastic used in these mats makes them a flexible product that hugs the surface on which they are installed. The mats are wear-, impact-, tear-, corrosion-, UV- and freeze-resistant.
These plastic mats are used by drillers, well-diggers, excavation companies, landscapers, outdoor landfill site managers, specialized scaffolding companies and special events organizers.
Site managers and machinery operators who have tried ground protection mats want them on all their construction sites.