Cofferdams and stream diversion
Cofferdams and stream diversions allow work to be carried out in the dry, thereby reducing the quantity of sediment released into a body of water during work in wetland and water environments. A cofferdam is a temporary dam that deflects water into a diversion channel to allow the construction of permanent structures. In combination, these techniques isolate the job site so that construction can proceed in the dry.
Terraquavie carries a range of materials for cofferdam construction.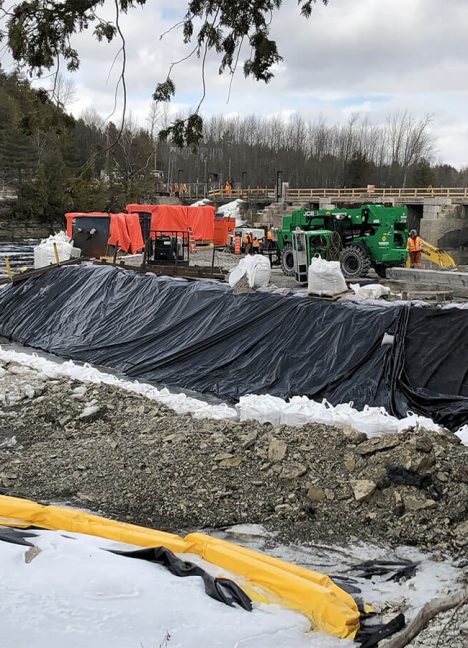 We offer an extensive range of geomembranes for sealing cofferdams, and geotextiles to protect the geomembrane. We also have cofferdam bags, as well as sand bags to establish a temporary structure for cofferdam installation.
Cofferdam
The base of the cofferdam is built using various materials such as concrete blocks, bags filled with sand or gravel, or a metal structure, and the top is covered with geomembrane to make the dam watertight. In addition, a pump may be necessary to eject water that may seep through the cofferdam, and a nonwoven geotextile may be required to protect the geomembrane and prevent its being punctured.
Cofferdams may also be prefabricated.
Diversion chanel
A diversion channel is a temporary structure that allows water to flow freely while work proceeds in the dry in a segment of the watercourse. Used in combination with a cofferdam, the channel is generally dug into the ground and lined with a geomembrane or geotextile.
Fonction
The cofferdam blocks the passage of water and allows the stream to be deflected into a diversion channel to allow free, natural water flow. These construction techniques reduce the impacts associated with the use of heavy machinery in watercourses, facilitate the work and may make the worksite safer for workers.
Several types of construction require cofferdam erection and stream deflection into a diversion channel: for instance, bridge pier construction or demolition, boat launch installation, culvert installation or replacement, retaining wall construction, dam construction or repair and shoreline or stream bank development or restoration.
Recommendations
Thorough preparation and selection of the right materials are essential to the success of any work in an aquatic environment.
The width of the temporary diversion channel must be at least two-thirds the width of the water environment, measured from the natural high water line (HWL).
Flex45 Geomembrane
The most popular product for cofferdam sealing is Flex45, because its characteristics optimize site operations. This 1.14-mm rubberized synthetic geomembrane sinks in water, and is also known for its flexibility and frost resistance. Its properties make it easy to install and enable a close fit to the supporting structure.
In addition, this geomembrane can be bonded and is easy to repair on site without specialized equipment.
Flex 45 is available in factory-assembled panels of various widths, from 1.5 m (5 ft.) to 15 m (50 ft.), in lengths of up to 60 m (200 ft.). In addition to offering an in-shop cutting and assembly service, Terraquavie also distributes everything needed for bonding and repairing this geomembrane: cleaner, primer, patches, double- and single-sided tape and seam rollers.
It is preferable to protect the watertight geomembrane with a heavy-gauge protective nonwoven geotextile if it is to be buried or covered with stones. The wide, diverse array of formats, gauges and models we carry allows for a prompt response in all situations and applications.
With our extensive inventory of geosynthetic products, we can offer various options to aid the construction of your temporary diversion channel.
Our team works regularly on projects in aquatic environments. Leverage our expertise for success in your cofferdam, stream deflection and diversion channel projects.